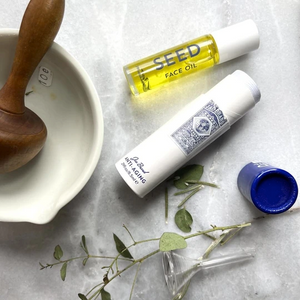 9 ANTIOXIDANT SEED OILS TO GENTLY HYDRATE WITH 20% PLUM OIL FROM FRANCE

YOUR FACE WILL LOVE YOU FOR IT!
Seed Face Oil - .29 fl oz/8.5 ml Roller ball bottle
Use this powerful skin conditioner to restore beautifully smooth and supple feeling skin. Our unique combination of 9 revitalizing seed oils combats dull, thin skin with the first application. Hydrate the lipid layer with this proprietary blend plus Wild Yam Root extract, a multi-active phytosterol complex, to stimulate the vital functions of mature skin and target fine lines and loss of radiance.
Seed Face Oil can be used day or night instead of a cream moisturizer, or in addition to one.  Lightly roll on the face, under eye and along laugh lines and gently massage into skin with clean fingertips.  If you need added moisture due to dry air, apply throughout the day as needed.  For air travel, apply every hour to prevent moisture loss from dry cabin air.  Use after sun exposure to replace natural oil loss due to the elements.
 The older we get, the less oil our skin naturally makes, which causes wrinkles to look deeper.  Oils help active ingredients go deeper where they will be more effective.  Oils may also be used to calm the skin and prevent irritation.