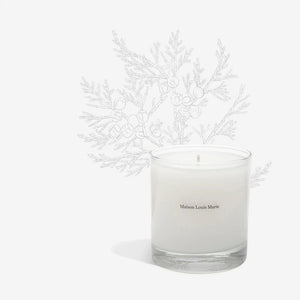 No.02 Le Long Fond Fragrance Notes: Founded by our grandfather, Le Long Fond is a nursery in Belgium that's still active today. This scent is a savory mixture of Hinoki wood accord underlined by notes of Cedarwood and Patchouli with a strong amber character. Top note: Hinoki Wood, Mid note: Cedarwood, Patchouli, Base note: White Musk.
No. 04 Bois de Balincourt Fragance Notes: Surrounded by an ancient mysterious forest, Balincourt is the name of our family home where we took long walks on a magical trail called 'Lover's Lane'. This romantic scent is a Sandalwood fragrance with a dominant Cedarwood and Sandalwood accord that's supplemented by a spicy Cinnamon Nutmeg complex with an earthy Vetiver note. Top note: Sandalwood, Cedarwood, Mid note: Vetiver, Nutmeg, Cinnamon, Base note: Amber Wood
No.09 Vallée de Farney Fragrance Notes: Vallée de Farney is a nature preserve located in the native forests of the Mauritius Island. The forest is home to more than 100 plant species and numerous animals where Louis Marie discovered many new plant specimens. Inspired by the wild forest, this scent is a woody, mineral fragrance. The top note is a citrus accord of grapefruit, orange, and black pepper enhanced by Cedarwood and Patchouli. Top note: Grapefruit, Orange, Black Pepper, Mid note: Cedarwood, Patchouli, Geranium, Base note: Vetiver, Amber, Musk.

No.10 Aboukir Fragrance Notes: Aboukir Bay is a spacious bay on the Mediterranean sea in Egypt, lying between Abu Qir and the Rosetta mouth of the Nile. Aristide, brother of Louis Marie, was a french naval officer, and hero of the battle of Aboukir. Inspired by a lush, intense, natural landscape, this fragrance has a spicy Eucalyptus top note with a floral amber heart composed of Jasmine, Lavender, Carnation, and a rich amber accord. The base notes of the fragrance incorporate a definitive woody accord of Patchouli, Cedarwood and Vetiver with a sweet tonka bean accord. Top note: Lemon, Nutmeg, Eucalyptus, Mid note: Jasmine, Carnation, Amber, Base note: Patchouli, Cedarwood, Vetiver.
Antidris - Cassis Fragrance Notes: This fruity fragrance begins with a black pepper note enhanced by bergamot and cassis. It then develops a strong green accord with a white rose base and dries down to a warm oakmoss, tonka, and clean musk base. Top Note: Cassis, Bergamot, Black Pepper, Mid Note: White Rose, Base Note: Oakmoss, Musk, Tonka.
Directions: Light your candle 2 hours the first time, you will get an even burn. To preserve the fragrance, do not burn your candle for more than 3 hours at a time. Before each burn trim the wick to less than 1/4 of an inch, you will avoid any black smoke and residue on the glass.
Soy Wax Blend, Fragrance, 8.5oz
Formulated without: Parabens, Sulfates & Phthalates


Our promise: Vegan & Cruelty-free, Mindful of your body and the environment.