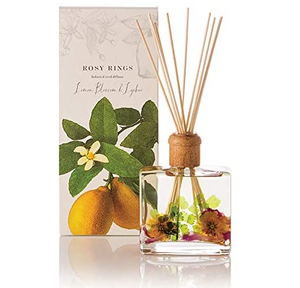 Dewy pink rose petals float upon the zest of a sun-ripened lemon and delicate white florals.
PRODUCT DETAILS
VOLUME: 13 FL OZ
LIFESPAN: 9-12 MONTHS
BOTANICALS: BRIDAL WREATH, BUCKWHEAT FLOWERS, ROSE PETALS, SAKURA BLOSSOMS
ESSENTIALS: CINNAMON LEAF, LEMON, LEMONGRASS

Gorgeous packaging is the perfect complement to dramatic square bottles filled with real spices, fruit and botanicals. Every natural element you see inside the glass vessel is delicately placed there by hand. Lovingly packaged with a wooden cap + 10 reed sticks.
FRAGRANCE NOTES 
DEWY GRASS
GRAPEFRUIT
LEMON
LEMONGRASS
LILY OF THE VALLEY
LYCHEE
PEACH BLOSSOM
ROSE