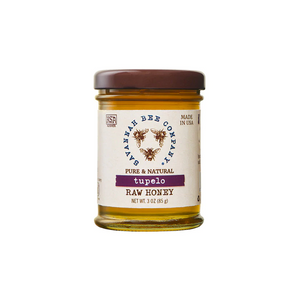 After nine years of steady decline, the 2018 Tupelo harvest was remarkable. Plenty of rain leading up to and beautiful weather during the bloom were the perfect weather conditions for producing such a fantastic crop. Ted says it's the best Tupelo in terms of quality and quantity since '92!

This year's crop is a very light golden-yellow that almost glows. The flavor is exquisite. It's the same soft, buttery sweetness unique to Tupelo Honey, only cleaner and livelier than the past few years. It really lives up to its nickname: Queen of the Honey World.

Produced in the threatened Tupelo ecosystem of the Altamaha and Apalachicola River Basins of Georgia and Florida, this special honey is guaranteed to delight the taste buds and leave a lasting impression.
TASTING NOTES: Buttery undertones with a soft vanishing sweetness.
REGION: Altamaha and Apalachicola River Basins of Georgia and Florida
PAIRINGS: A favorite in tea but this golden honey is great to brush on pastries or fresh bread for an added sweetness to anything you want to elevate in culinary stature. Bee Creative!

3 oz Glass Jar