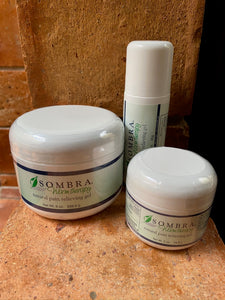 Relieves minor aches and pains of muscles and joints associated with arthritis and simple backaches.
Absorbs quickly with a refreshing orange aroma.
Unique warming and cooling ingredients.
Alcohol free, non-greasy, non-staining.
Animal free.
Made in the USA.
Sombra's Natural Pain Relieving Gel Warm Therapy has become one of the leading topical analgesics in the market today. Great for chronic conditions and basic aches and pains.